Customized training and professional development
At Clackamas Community College, we mean business. Our customized training and professional development opportunities will boost employee performance as well as increase job satisfaction and retention.
Our experienced project managers can create professional training solutions for your business. We partner with qualified experts in the industry to design courses that reflect the unique requirements of your industry and host classes on a schedule and at a location that's convenient to you.
To learn more about how our knowledgeable staff can help you take your business to the next level, call 503-594-3200 or email training@clackamas.edu.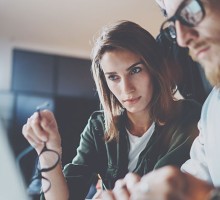 Online classes
Boost your career advancement opportunities or pursue new personal passions with our easily accessible non-credit online courses offered in partnership with ed2go.
Upcoming training options (noncredit)
Personal Care Assistant

Two-week (56-hour) program.
Employers, county and state agencies now have access to an affordable and efficient Personal Care Assistant (PCA) certification program provided by Clackamas Community College. Participants learn basic care-giving skills that will benefit new and incumbent, non-licensed home care providers and care-givers in long-term and residential care communities. Training includes nursing assistant skills, customer service, communication skills, professional standards, memory care and home management skills. Upon completion, participants will receive a State of Oregon recognized non-credit training certificate.
Training is facilitated by a registered nurse.
Through this training, participants will meet the requirements for HB 3359 Pre-Service 6-hour dementia care.

We offer a variety of delivery options. Please contact Teri Olsen at 503-594-3200 or terio@clackamas.edu to assess your specific needs.

Emerging Leaders Series

This course will address the skills a new leader needs to transition from being an independent contributor to leading others. The program will support new leaders in their roles and will prepare them for more advanced leadership training. Participants will explore concepts such as adjusting to a leadership role, interaction with people of various personalities, effective communication, conflict resolution, goal setting and time management.

This training is focused on new leaders and their transition into multiple roles as leaders, mentors, problem-solvers, and trainers. Empower the leaders in your company to develop their professional skills, learn to manage others, oversee projects and streamline business processes.
Upcoming training options for college credit
Leadership Academy

Saturdays, 8 a.m.-1 p.m., 18 sessions over a 10-month period; Oregon City campus. $3,150/person

The Saturday Leadership Academy provides leaders with the opportunity to learn and practice interpersonal skills that they can use every day. It combines classroom and online learning, practice and the support of a workplace mentor. Over the past ten years, hundreds of employees have completed the Leadership Academy. Many have gone on to make significant contributions to their organizations and experience personal and professional growth.

Training includes topics such as:

Your leadership journey
Communicating for leadership success
>Making the most of workplace differences
Adaptive leadership
Building and sustaining trust
Coaching for peak performance
Resolving workplace conflict
Maximizing team performance
Strategies for influencing others
Making meetings work
Training others
Delegating with purpose
Setting goals and reviewing results
Making high quality decisions
Developing yourself and others
Addressing poor performance
Driving change
In-class capstone presentations

To register, email training@clackamas.edu or call 503-594-3200.
Our scheduled trainings include some of our most popular offerings, but you can always design your own! Work with our team to customize training for your business to fit your needs.
The Customized Training advantage
All trainings meet college-level quality standards.
We can facilitate classes at your site or provide train-the-trainer services to support your training staff.
Topics are limitless. Some popular subject areas include:

Leadership
Blueprint reading
Geometric dimensioning and tolerancing
CNC setup and operation
Shop math
Conflict management
Microsoft Office suite
Customer service
Communication